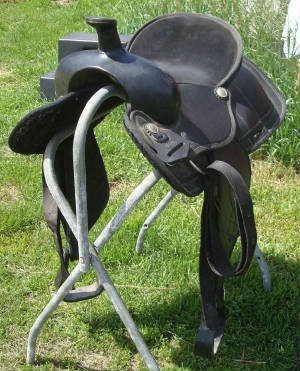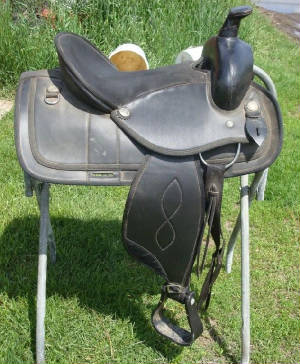 SOLD:Weaver saddle: Black synthetic and leather Weaver saddle. #15 Derby Original. 16" seat. Sturdy and lightweight. Very good condition. Comes with cinch and matching black saddle pad. $175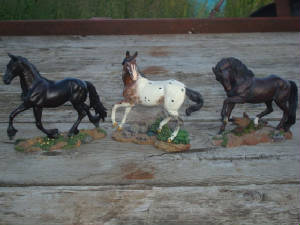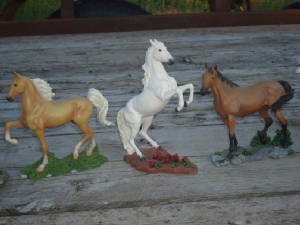 Danbury Mint horse statues: Most are approx. 4" x 4". Very detailed, set of 12. Pictures don't do them justice. Asking $120 for the whole set, or $15 each. 12 different breeds including: Saddlebred, Arabian, Friesian, Quarter Horse, Lippizan, Standardbred, Mustang, etc.
Antique Flour Sifter: This flour sifter is from the '40's or '50's and is a 3 screen Handisift. The outside could use a little cleaning, but is in excellent condition. It is still very functional, as well. The patent# appears to be: 2,607,491. It is 5 1/2" tall and 5" in diameter. Asking $75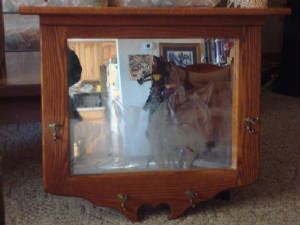 SOLD Etched glass wolf mirror: This is a beautiful mirror/coat and hat hanger that is to be mounted on a wall. It's in excellent condition and was bought at the Rennaissance Festival about 20 years ago. There are 2 gorgeous wolf heads etched in it, along with a background of snow and trees. No matter how I tried, I found it nearly impossible to photgraph a mirror......go figure. The photos, in no way, show the fine detail of the etchings. The shelf at the top is 4" by 30" long and the whole unit which is ready to hang on your wall is 30" from side to side and 25" long. There are 2 brass hooks for hats/coats on the side and 2 more brass hooks in the middle of the bottom edge. The clips holding the mirror in on the back are very secure as well as padded to protect the mirror, itself. Asking $65, (paid a lot more when I bought it!).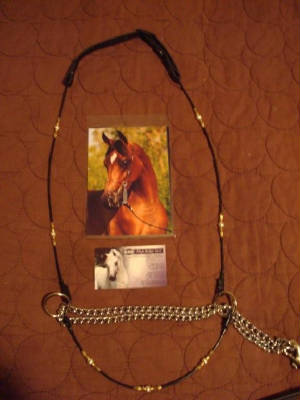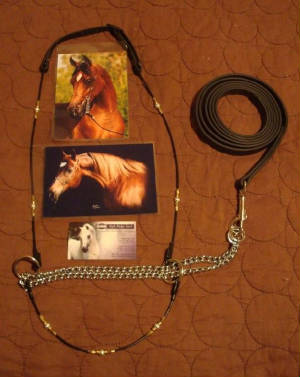 SOLD Arabian show halter: "Pure Elegance", cable Arabian show halter. Beautiful hand made show halter. This halter was donated to us for our fundraiser. Silver and gold beads, comes with 7 ft. show lead. $50
Necklace made of horseshoe nails.
Unique necklace: I've owned this piece for about 30 years and used to wear it all the time. Now that all my jewelry is sitting unused, it's time to part with some of it. It could easily be restrung on rawhide, a cord or something else. The largest part can be used as a separate piece, as well. Priced at $35.00 plus shipping. Will ship as the buyer wishes.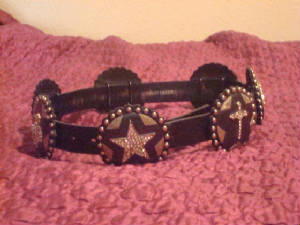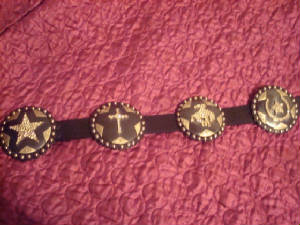 Bling belt. This beautiful belt is actually black as well as the conchos. There are 7 conchos: 2 bucking broncs, 2 crosses, a star, a longhorn head and a star filled horseshoe. Never used as I never have the need to dress up these days. Selling for $75.00 (well under purchase price) plus shipping. Up to the buyer as to how they want ir shipped.
Enter content here